$19 per Report
With Portal Account
(Bulk Discounts Available)
Basic Portal Account
Unlimited Access
Create assessment links for students

Organize students in Classes

Assign students to specific counselors/teachers

Send assessment links to students from your email account

Monitor assessment progress

Purchase only completed assessments

Retrieve and download completed BFCF Reports

Send students their completed BFCF Report from your email account
Premium Portal Account
Unlimited Access
Create assessment links for students

Organize students in Classes

Assign students to specific counselors/teachers

Send assessment links to students from your email account

Monitor assessment progress

Purchase only completed assessments

Retrieve and download completed BFCF Reports

Send students their completed BFCF Report from your email account

Bulk import students using csv files

Have system send students assessment links automatically after import or creation

Customize system email messages to students

Set system to auto purchase and send results to students immediately upon completion

Set optional email and/or text alerts so that you are alerted each time a student completes an assessment

Set optional "Auto Purchase and Send Results to Students" so that students receive their results immediately upon completion of assessment

Set optional "CC me on all system generated emails to students" so that you can confirm and record system emails
The Best Fit Career Finder Portal System
Web based portal system lets you create and assign assessment links and track the progress of your students' assessments. Pay only for assessments completed and download or send results to students through the system. Sample Screen Shots Below.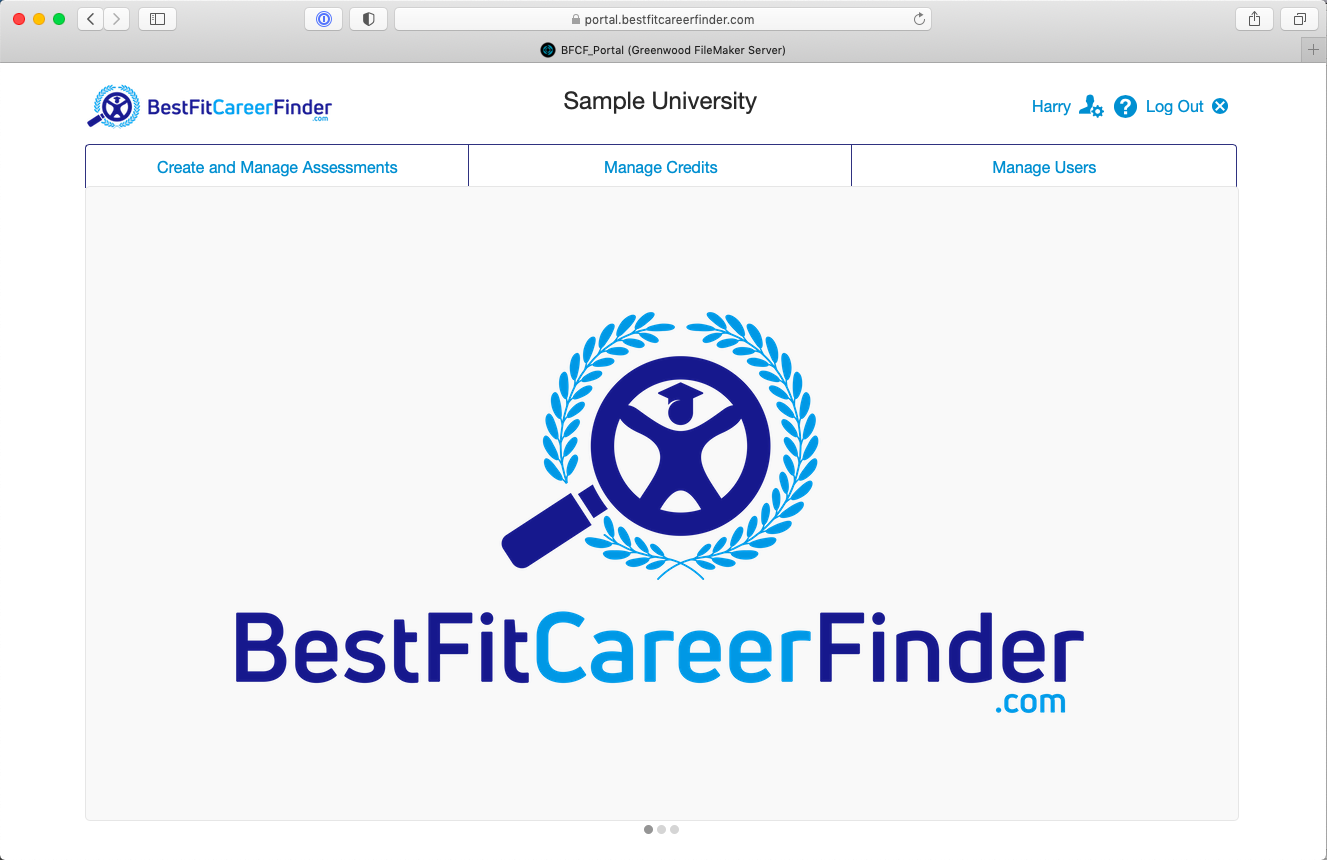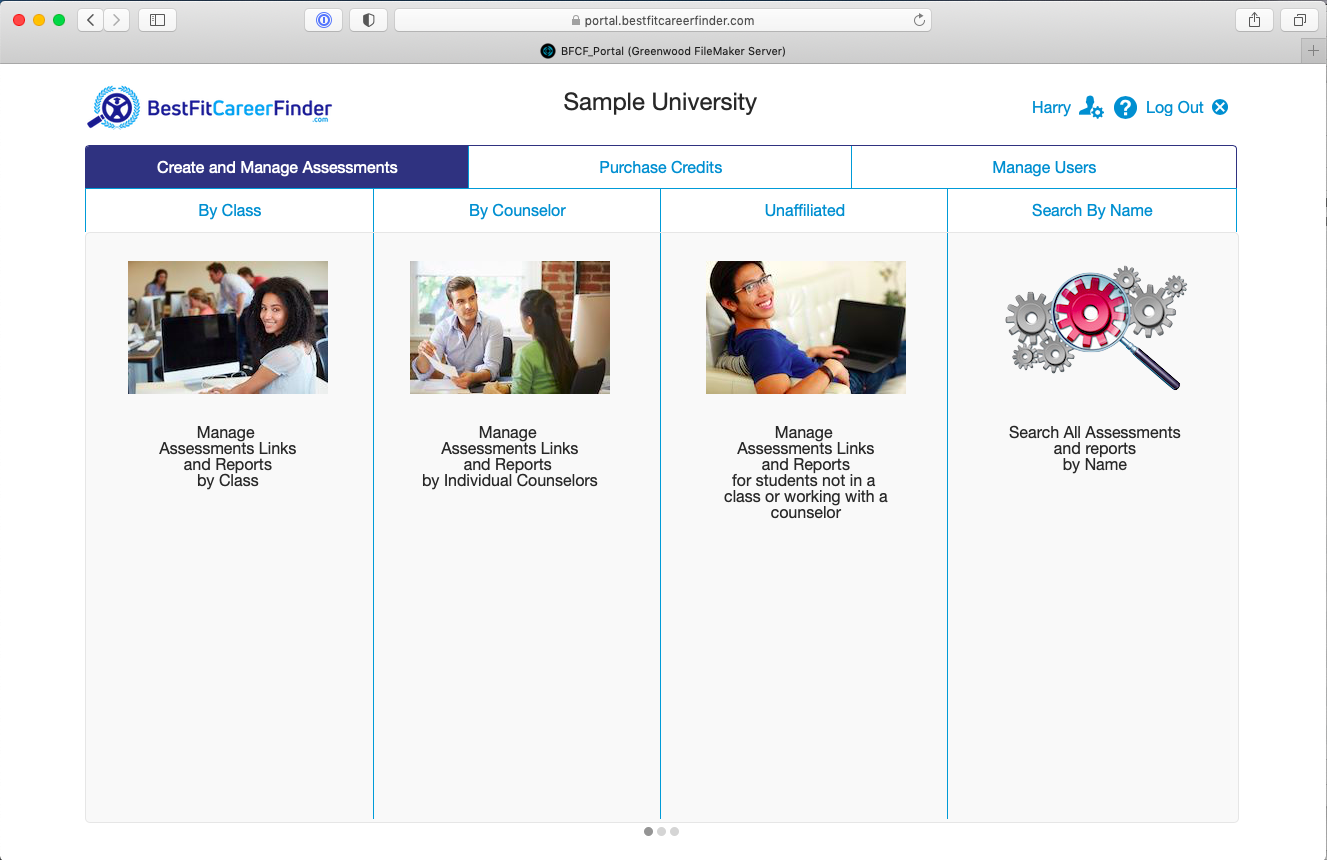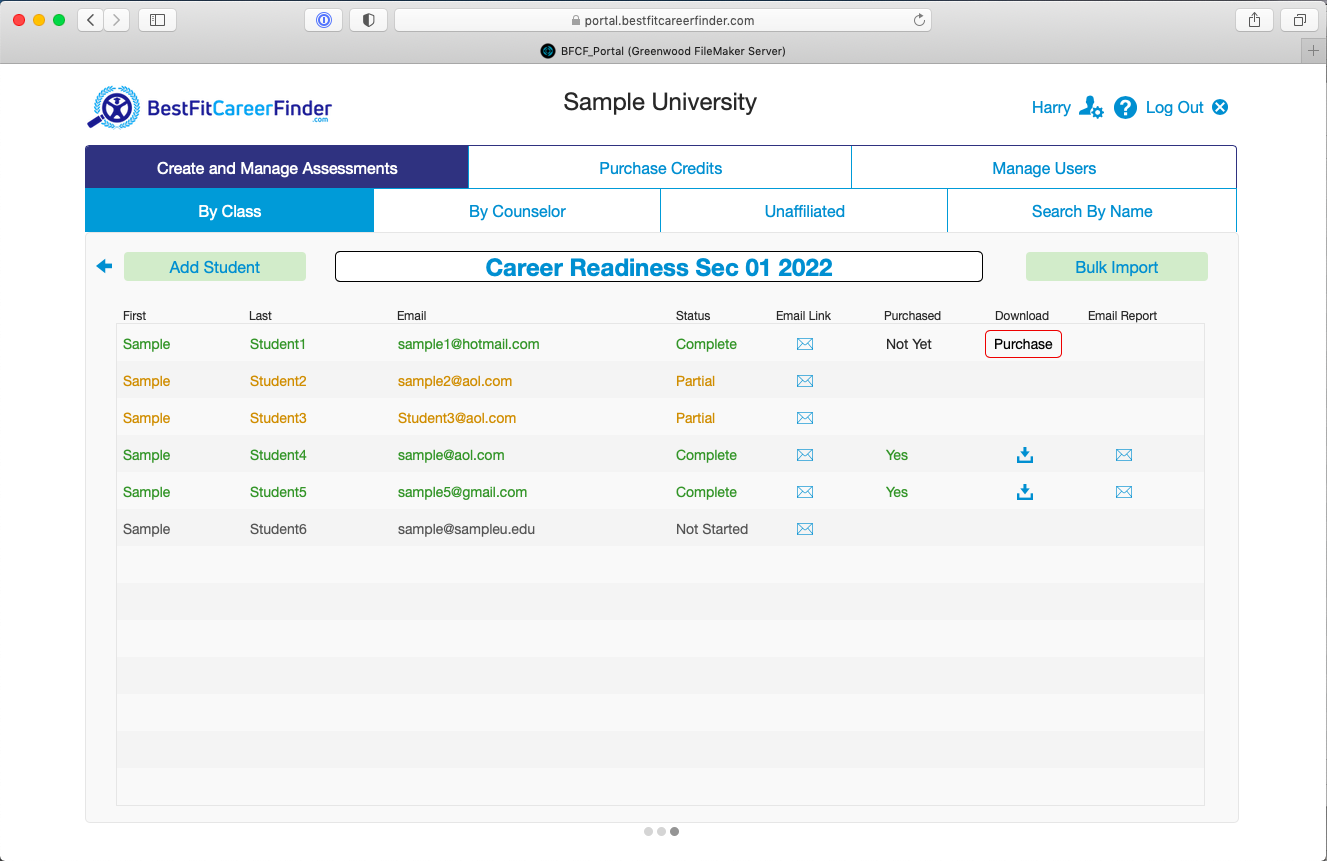 What Makes Best Fit Career Finder™ Evidence Based?
Best Fit Career Finder is based on the Greenwood System™ which was peer reviewed in the Career Development Quarterly in 2008 and shown to be 85% effective with an approval rating of 95%. 
How often are the careers in the database updated?
The career database is updated every three to six months.
How many careers are in the database?
There are over 1,000 careers in the database from which the students' reports are generated.
Will my students get their results immediately upon completion of the assessment?
 With premium portal  access, you have the option to set reports to be auto-purchased and sent to the student immediately upon completion of the assessment. Otherwise, you will have to authorize the purchase and sending of each assessment manually.
Who can use the Best Fit Career Finder?
At this time, only post secondary schools are able to use the Best Fit Career Finder.
How long does it typically take for a student to complete the assessment?
A typical student will spend about 45 minutes to complete an assessment. There is a "Save and Continue Later" option on each page so that the student does not have to complete the assessment in a single sitting.
Is the assessment timed?
The assessment is not timed nor does it challenge students' abilities with correct and incorrect answers.
How long does it take for the system to score an assessment and get me the results?
Once the student "Submits" the assessment it takes only a few minutes for the results to appear in your Best Fit Career Finder Portal.
How old does a student have to be to take the Best Fit Career Finder™?
The pyschometrics within the Best Fit Career Finder™ are valid for students over the age of 14.

Corporate Headquarters: Burbank, CA   |   (949) 287-2774   |   Contact Us